Non Slip Soft Baby Girl Sandals
Special Price
PKR875.00
Regular Price
PKR1,250.00
You Save 30% (PKR375.00)
Product is made of high quality soft material, and will cause no harm to baby.
Please make sure to buy the correct size as per the below size chart.
If your baby is healthy, please buy larger size.
Delivery all over Pakistan in 3-5 days.
Size Chart: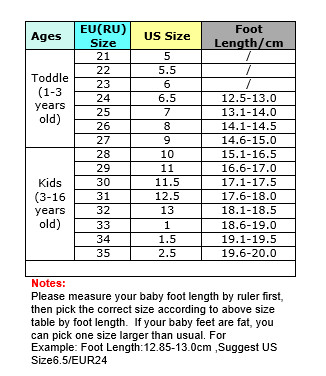 Kids' feet are little in size but their needs are surely not, especially when the matter is to find the best shoes for them. Parents are fully aware of how much strain an active and lively child can put on a pair of footwear. If you want your kid's shoes to last season-long, then this pair of shoes is surely made for your kid. This shoe is made of high-quality materials and designed to last. Also, this pair of shoes is waterproof and is comfortable to wear as the EVA material used in it is lightweight and recyclable.
This cute little pair of shoes in the color combination of soft blue and soft pink with a smiley cartoon is a perfect addition to our stock. This shoe is available in different sizes for babies of 1-4 years old. The strap added on the shoes is also designed while keeping in mind the comfort of the child as it will not hurt the foot of babies. This shoe can be worn anywhere from a pool shower to normal daily life.